Committed to Affordable Housing
As part of M&T Bank, we have access to a breadth of financing options making us a leading affordable housing capital provider.
Why Choose M&T Realty Capital
Expertise Along with An Array of Products & Services
Dedicated affordable housing licenses with Fannie Mae (MAH) and Freddie Mac (TAH).
We offer a full service model with all the tools and guidance to support your specifc needs throughout the loan process. 
Ranked #11 in the Top 25 Affordable Housing Lender ranking by Affordable Housing Finance.
What We Offer
We are here to listen and help you identify the right solution.
Different options are available to finance your unique project
Fannie Mae – Multifamily Affordable Housing (MAH)
Freddie Mac – Targeted Affordable Housing (TAH)
FHA
Private Placement Execution (Construction to Permanent)
Bridge Loans
CDFI Placement
Our experts understand what solutions are right for your real estate
Section 8 HAP Contract Properties
Tax-Exempt Bonds / 4% LIHTC
9% LIHTC
RAD Properties
Workforce Housing
NOAH Properties
From New Construction to Rehabilitations Loans
We offer customized financial solutions to meet your specific affordable housing needs.
Non-recourse

Forward Committed Permanent Loans
Longer amortization up to 40 years
Higher leverage up to 90% LTV
Fixed Rate Executions (some with early rate lock options)
Floating Rate Executions 
Our Commitment to Growing Affordable Housing
$1.8 billion
in Affordable Housing Financing
$325 million LIHTC to be Committed
annualized low-income housing tax credit equity
Ranked #11 Lender
via Affordable Housing Finance 2022
Leveraging the Power of the M&T Bank Balance Sheet
As part of M&T Bank we have access to a breadth of financing options.
Construction Loans
Bridge Loans
LIHTC Equity
Equity Bridge Loans (LIHTC)
PreDevelopment Loans
Lines of Credit
Letters of Credit
We have a dedicated nationwide affordable housing platform with a team of experienced professionals. Contact us to start the conversation.
Sean Cullen
Interim Affordable Housing Platform Manager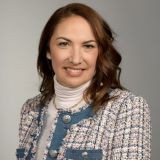 Sandy DeFelice
FHA Platform Manager
John Marshall Doss
vice president
M&T Realty Capital Corporation is a wholly-owned subsidiary of M&T Bank. Member FDIC