MARY ALICE BROWN APARTMENTS
M&T Realty Capital Corporation Provides $25 Million in Financing for an Affordable Multifamily Property in South Florida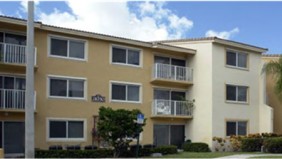 M&T Realty Capital Corporation® provided a $25,000,000 bridge loan for the refinance of a 216-unit affordable multifamily property located in Opa-Locka, FL. At 70% LTV, the 3-year, fixed-rate loan is structured and followed by 30-years of amortization.

This property was officially renamed Mary Alice Brown Apartments, after a woman who has lived in the area for more than 70 years. The "Matriarch" has long advocated for her community and better housing for all.  Brown is a founding member of the Opa-Locka Community Development Corporation's Board of Directors – a group who builds and rehabs affordable housing.
Mary Alice Brown Apartments offers 2- and 3-bedroom units for rent. The property is located near the junction of I-95 and Palmetto Expressway. Property amenities include gated community and key fob entry, laundry facilities, fitness center, playground, volleyball court, picnic area.  Unit amenities include internet, washer and dryer hook up, air conditioning, heating, cable ready, security system, tub/shower, sprinkler system and wheelchair accessible rooms.

"Opa-locka Community Development Corporation is proud to be able to preserve affordable housing properties, and our recent refinancing of Mary Alice Brown though a Bridge loan with M&T allows us to accomplish that goal.  The proceeds from this loan will allow us to make improvements to the property and to keep it as a desirable location for families in the greater Opa-locka community," states Dr. Willie Logan, CEO, Opa-Locka Community Development Corporation. 

M&T Realty Capital Corporation is a wholly-owned subsidiary of M&T Bank. "DUS®" is a registered trademark of Fannie Mae. "OptigoSM" is a registered trademark of Freddie Mac.